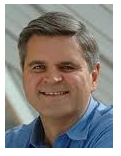 Steve Case (Stevecase)
America Online (AOL) so that the Internet is no longer expensive and easy to use.
1985 Keith founded a small online service company, and make unremitting efforts to beat competitors such as CompuServe and Prodigy, let AOL became the undisputed industry leader. In 2000 the company further success, Keith value of $ 165 billion acquisition of Time Warner, AOL shares (TimeWarner). At this time the company's annual losses reached a record high, but AOL with their own innovations, including the number of mailing millions of free software and provides a toll rates, since revolutionized the concept of the Internet. Keith is currently being set his sights on other industries, including the new payment system called Gratis Card, the system is trying to compete with Visa and Master card.